EFT (Emotional Freedom Techniques) is a fantastically effective therapy that helps to resolve a wide ranges of imbalances including stress and illness, quickly and easily.
EFT is based on the ancient principles of acupuncture without the discomfort of needles and is one of the most effective energy psychology techniques, with the medical profession even starting to take notice of its effectiveness.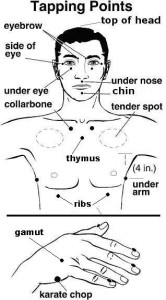 This simple tapping procedure gently realigns the body's energy system and helps to address issues such as stress, phobias, pain, anxiety, depression, grief, public speaking, agoraphobia, abuse, trauma, fertility, weight, eating disorders, sports performance, anger management, fear of flying/heights, and addictions. A Freedom from Smoking Package is also available to help clear associations with smoking and re-programme positive new ways of being.
EFT has shown impressive results on both emotional and physical problems; it is one of the fastest techniques available and often works when nothing else will. Please check out this video which shows an EFT session with Capital FM Radio Presenter Sally Hudson and also visit my page for EFT and guided meditations on my youtube channel.
Fee:

First appointments include a detailed consultation and lasts for 1 hour 15 minutes, subsequent appointments are 1 hour. The fee for the first session is £58 at my treatment room in Hoghton and via Skype and £53 for any subsequent 1 hour sessions, and £65-£95 for home visits. Sessions are also available at The Mandala in Preston. To book a session please email or phone 07910 126938.